Pseudorabies-firus (gB) PCR-opsporingskit
Produktdetail
Produkt tags
Pseudorabies-firus (gB) PCR-opsporingskit (lyofiliseare)
48tests / kit, 50tests / kit
Dizze kit brûkt real-time fluoreszearende PCR-metoade om it RNA fan Pseudorabies-virus (gB-gen) (PRV) op te spoaren yn weefsel-sykte-materialen lykas mangels, lymfeklieren en milt en floeibere sykte materialen lykas faksin en bloed fan pigs. It is geskikt foar de opsporing, diagnoaze en epidemyalogysk ûndersyk fan Pseudorabies-firus (gB-gen). De kit is in ALL-READY PCR SYSTEM (lyofiliseare), dat it DNA-amplifikaasje-enzyme, reaksjebuffer, spesifike primers en probes befettet dy't nedich binne foar fluorescent RT-PCR-opspoaren.
Komponinten
Pakket
spesifikaasje
Yngrediïnt

PRV PCR Mix

1 × flesse (lyofiliseare poeder)

 

50Test

dNTP's, MgCl2, Primers

, Sondes, Taq DNA-polymerase

6 × 0,2 ml 8 well-strip buis

(Lyofiliseare)

48Test

Posityf kontrôle

1 * 0.2ml buis (lyofiliseare)

 

10Tests

Plasmid as Pseudovirus mei PRV (gB) spesifike fragminten

Oplossing oplossing

1,5 ml Cryotube

500uL

/

Negative kontrôle

1,5 ml Cryotube

200uL

0,9% NaCl
(1) De kit kin wurde ferfierd op keamertemperatuer.
(2) De hâldberens is 18 moannen by -20 ℃ en 12 moannen by 2 ℃ ~ 30 ℃.
(3) Sjoch it kaartsje op kit foar de produksjedatum en de ferfaldatum.
(4) It lyofiliseare reagens foar poederferzje moat wurde opslein op -20 ℃ nei ûntbining en de werhelle fries -tau moat minder dan 4 kear wêze.
GENECHECKER UF-150, UF-300 real-time fluoreszinsje PCR-ynstrumint.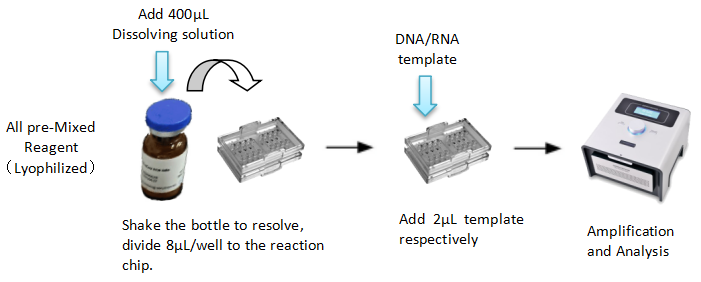 b) 8 buisferzje mei goed strip: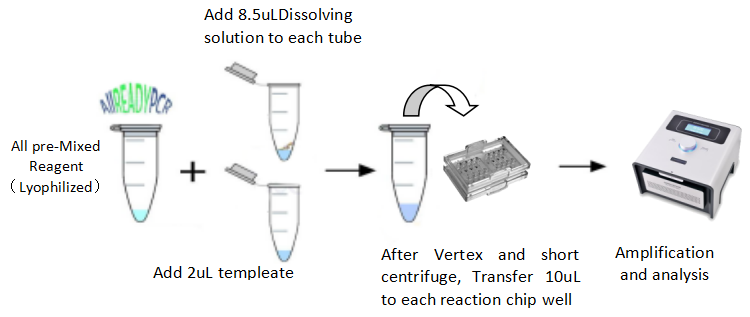 Oanrekommandearre ynstelling
Stap

Syklus

Temperatuer (℃)

Tiid

Fluorescensiekanaal

1

1

95

2min

/

2

40

95

5s

/

60

10s

FAM-fluorescentie sammelje
* Opmerking: De sinjalen fan FAM-fluoreszenskanalen wurde sammele op 60 ℃.
Testresultaten ynterpretearje

Kanaal

Ynterpretaasje fan resultaten

FAM Channel

Ct≤35

PRV (gB) Posityf

Undet

PRV (gB) Negatyf

35<Ct≤40

Suspicious resut, retest*
*If the retest result of FAM channel has a Ct value ≤40 and shows typical "S" shape amplification curve, the result is interpreted as positive, otherwise it is negative.
---
---