E.coli O157: H7 PCR-opsporingskit
Produktdetail
Produkt tags
E.coli O157: H7 PCR-opsporingskit (lyofiliseare)
48tests / kit, 50tests / kit
Escherichia coli O157: H7 (E.coli O157: H7) is in gram-negative baktearje dy't ta it geslacht Enterobacteriaceae heart, dy't in grutte hoemannichte Vero-toksin produseart. Klinysk komt it ornaris ynienen foar mei slimme buikpine en wetterige diarree, folge troch hemorragyske diarree in pear dagen letter, wat kin liede ta koarts of gjin koarts, en de dea yn slimme gefallen. Dizze kit is geskikt foar de kwalitative opspoaren fan Escherichia coli O157: H7 yn iten, wettermeunsters, stront, spuie, baktearje-ferheegjende floeistof en oare meunsters mei it prinsipe fan real-time PCR. De kit is in ALL-READY PCR SYSTEM ( Lyofiliseare), dy't it DNA-amplifikaasje-enzyme, reaksjebuffer, spesifike primers en probes befettet foar fluorescerende PCR-opsporing.
Komponinten
Pakket
spesifikaasje
Yngrediïnt

E.coli O157: H7 PCR Mix

1 × flesse (lyofiliseare poeder)

 

50Test

dNTP's, MgCl2, Primers

, Sondes, Reverse Transcriptase, Taq DNA-polymerase

6 × 0,2 ml 8 well-strip buis

(Lyofiliseare)

48Test

Posityf kontrôle

1 * 0.2ml buis (lyofiliseare)

 

10Tests

Plasmide mei E.coli O157: H7 spesifike fragminten

Oplossing oplossing

1,5 ml Cryotube

500uL

/

Negative kontrôle

1,5 ml Cryotube

200uL

0,9% NaCl
(1) De kit kin wurde ferfierd op keamertemperatuer.
(2) De hâldberens is 18 moannen by -20 ℃ en 12 moannen by 2 ℃ ~ 30 ℃.
(3) Sjoch it kaartsje op kit foar de produksjedatum en de ferfaldatum.
(4) It lyofiliseare reagens foar poederferzje moat wurde opslein op -20 ℃ nei ûntbining en de werhelle fries -tau moat minder dan 4 kear wêze.
GENECHECKER UF-150, UF-300 real-time fluoreszinsje PCR-ynstrumint.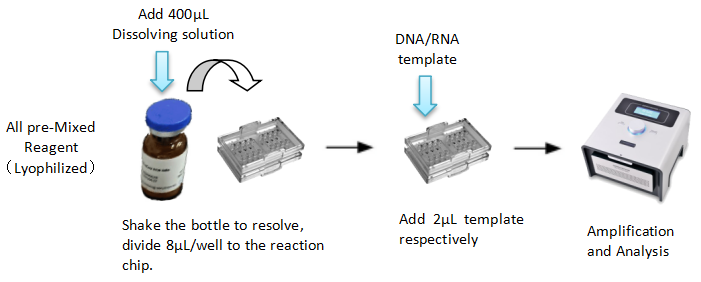 b) 8 buisferzje mei goed strip: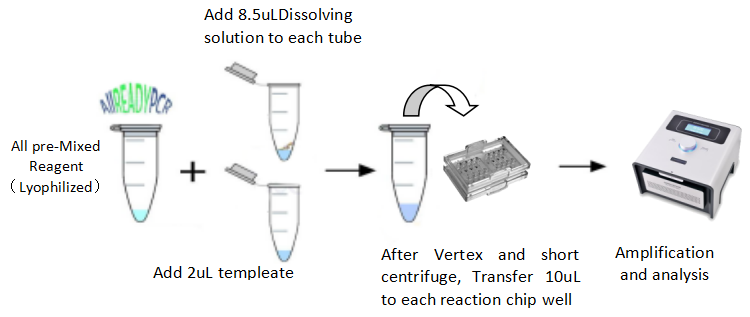 Oanrekommandearre Setting
Stap   

 Syklus

Temperatuer (℃)  

Tiid

Fluorescensiekanaal

1

1

95

2min

 

2

40

95

5s

 

60

10s

FAM-fluorescentie sammelje
* Opmerking: It sinjaal fan FAM-fluoreszenskanaal wurdt sammele op 60 ℃.
Testresultaten ynterpretearje

Kanaal

Ynterpretaasje fan resultaten

FAM Channel

Ct≤35

E.coli O157: H7 Posityf

Undet

E.coli O157: H7 Negatyf

35<Ct≤40

Suspicious resut, retest*
*If the retest result of FAM channel has a Ct value ≤40 and shows typical "S" shape amplification curve, the result is interpreted as positive, otherwise it is negative.
---
Previous:
MIKROBIAL AEROSOL SAMPLER
---